---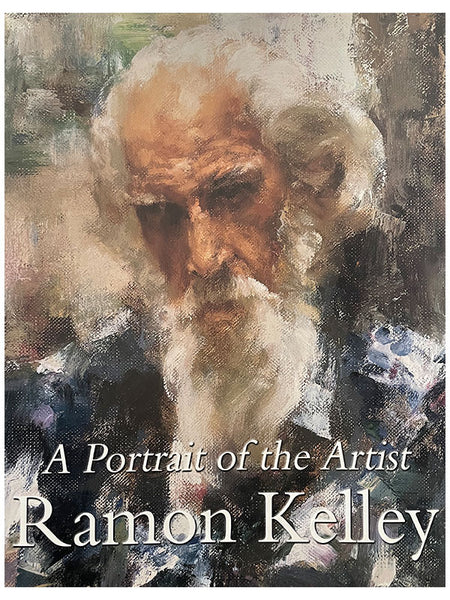 Ramon Kelley's A Portrait of the Artist, Ramon Kelley Standard Edition by Ramon Kelley
Summary:
The beautiful work shown in this book is more than a collection of astonishing art. It represents the legacy of one of the USA's living masters, Ramon Kelley, and the way this book is structured gives the reader unprecedented insight into the artist's heart and mind.
Carefully selected images from Ramon's entire body of work to date, give the reader a precious overview of the evolving style and explorations of this great artist. Using a foundation of exceptional drawing, Ramon reveals in this book how it is possible to express emotional, expressive warmth and vivacity in an impressionistic style using bold colors, so that the essence of the subject is conveyed.
Each of the paintings displayed carries an insightful description by the artist so that the reader can share Ramon's inspiration, motivation and strategy. You will be spellbound as you read the emotion behind each piece, and how Ramon changed his technique to develop the meaning so evident in the finished work. You will be fascinated when you discover the part that elements like shape, texture, color, tonal arrangements play in enhancing each subject. It is the revelation of Ramon's unique thinking that gives even more enjoyment of his art. As well as all this, Ramon gives a fascinating account of his struggles to become an artist - because making meaningful art has always been his life's goal. He shares many anecdotes of his journey along the way.
A foreword by José Aguayo, Founder and former Executive Director of the Museo de las Americas, Denver, Colorado, gives even more insight into Ramon Kelley's towering artistic talent.
Contents:
Contents
Specifications:
Book Reference No.:B252 STD
Book Cover: Hard Cover
Book Specs: 12 1/4" x 10"
No. of Pages: 168
About the Author
Ramon Kelley grew up in Cheyenne, Wyoming and developed a strong interest in art. After serving in the US Navy, he won a scholarship to the Colorado Institute of Art, and by the early 60s had settled permanently in Denver. Needing to support his wife and young son, he worked as an illustrator and graphics designer, making portrait drawings in the evenings. Jane Hiatt, owner of the Village Gallery in Taos, New Mexico, suggested Ramon move into color and paint. His career in fine arts was off and running.
His first watercolor was accepted into the American Watercolor Society's annual exhibition, where it won the Helen Gapen Oehler Award. At the same time, Ramon adopted pastel and became one of the earliest members of the Pastel Society of America. He also took up oils and acrylics, and tried his hand at many other media, including sculpture.
His work has been exhibited in one-man and group shows from Tuscan to Taiwan, and his memberships in the Allied Artists of America, the Pastel Society of America, the National Academy of Western Art, Knickerbocker Artists, Oil Painters of America and the American Watercolor Society reflect the high calibre of his paintings. In 1986, he was elected to the Pastel Hall of Fame by the Pastel Society of America. His sensitive character studies are included in the collections of the Seattle Frye Museum, the Santa Fe Museum of Fine Art, the Denver Public Library, the Spokane Museum of Native American Cultures and the Academy at West Point, among numerous other public and private collections.
In addition to painting, Ramon is a world-class teacher. His work has been featured in 15 art magazines and in two previous art instruction books.
While Ramon has worked very hard to be a successful artist, his family remains his priority. His success has not dulled his passion for excellence, nor has it affected his personality. Ramon Kelley is still a very grounded, honest, humble person with a great sense of humour who continues to challenge himself in his profession.
$49.00